Events
Celebrate Community at Pride Walk
On Monday, Oct. 3, at 3 p.m. in Stafford Commons, members and allies of the campus LGBTQ+ community will come together for the second annual Pride Walk, a celebration of identity, strength and community.
This year's Pride Walk follows a 1.4-mile, ADA-accessible route through campus. The route includes three rally points and three cheer points where attendees can enjoy energetic music, listen to invited speakers and welcome those interested in joining the walk or cheering the group on.
At NC State, Pride Walk was founded as a way for the community and its allies to commemorate the history behind Pride and to honor those who paved the way so that today's gatherings can be celebrations rather than protests.
"The term 'Pride' goes beyond just good feelings; it is a culmination of connectedness, community building and community restoration," said Charla Blumell, director of the GLBT Center. "Pride Walk and the celebration of LGBTQ+ History Month are symbolic of what can happen when a community rallies together in support of each other. This is a beautiful opportunity to show up and wrap our arms around the LGBTQ+ community in a truly meaningful way."
Pride Walk is typically planned to coincide with National Coming Out Day, which is always observed on Oct. 11. However, this year that day occurs during fall break, so the planning committees opted to move up the event. The walk will also serve to kick off LGBTQ+ History Month, during which the GLBT Center will offer events through its Faculty and Staff Network, as well as a documentary screening later in the month.
Here's what you can expect at this year's Pride Walk:
3-4 p.m.: Pregame the walk by decorating a sign or a T-shirt on Stafford Commons.
4-5 p.m.: Enjoy the event speakers and make your way around NC State as you participate in the walk.
5-6 p.m.: Hang out at the lawn party, and browse the offerings of local vendors and food trucks.
Preview the Route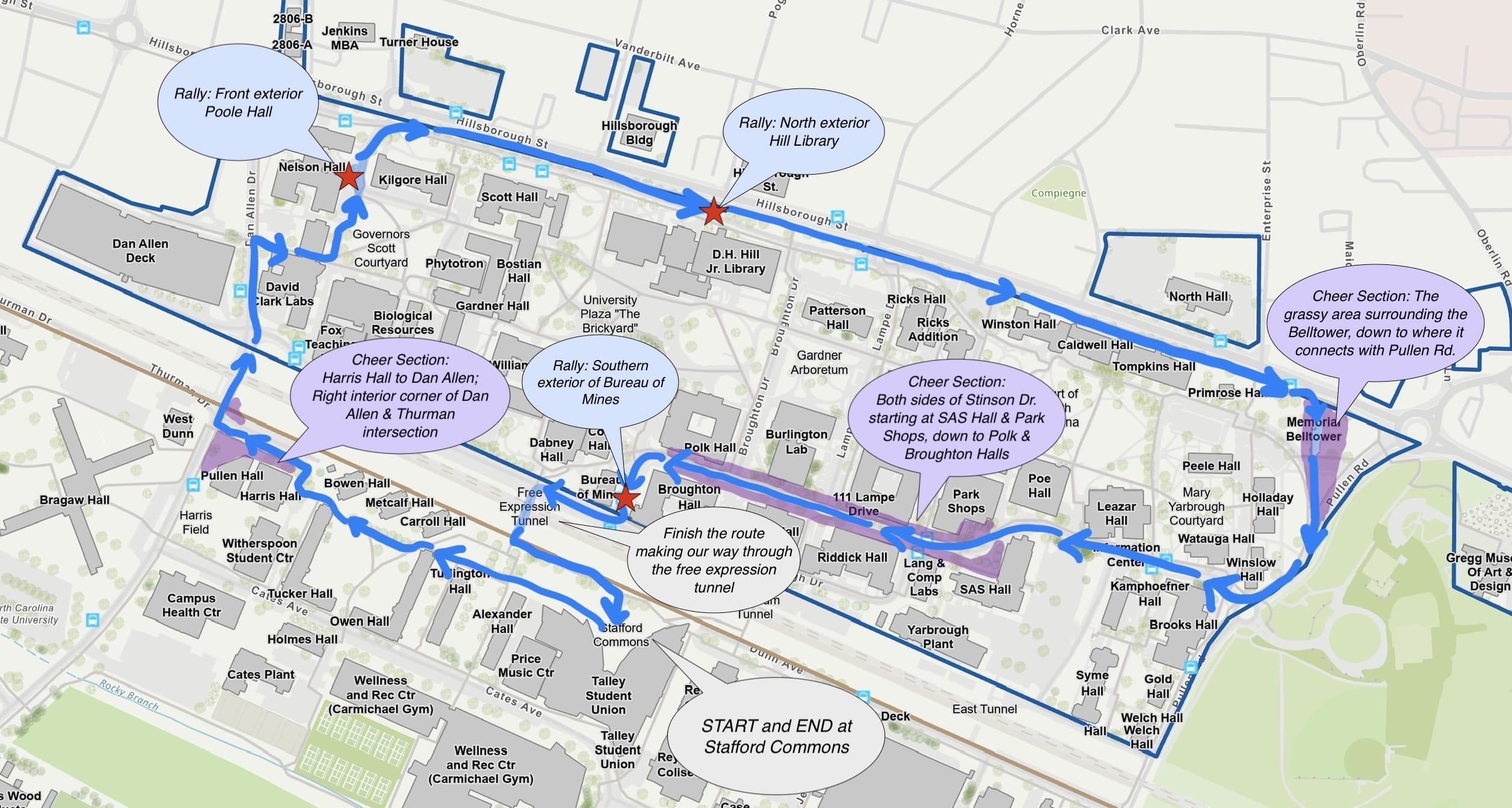 This post was originally published in NC State News.